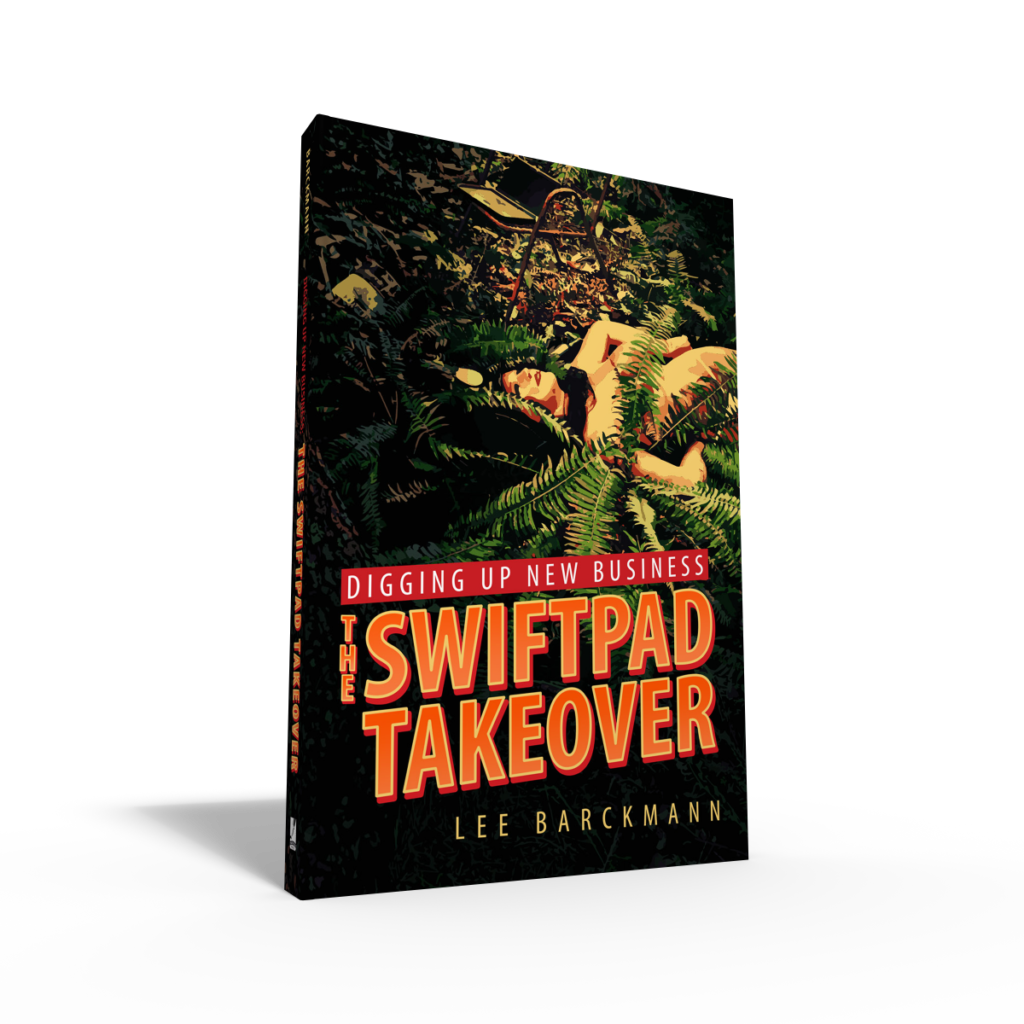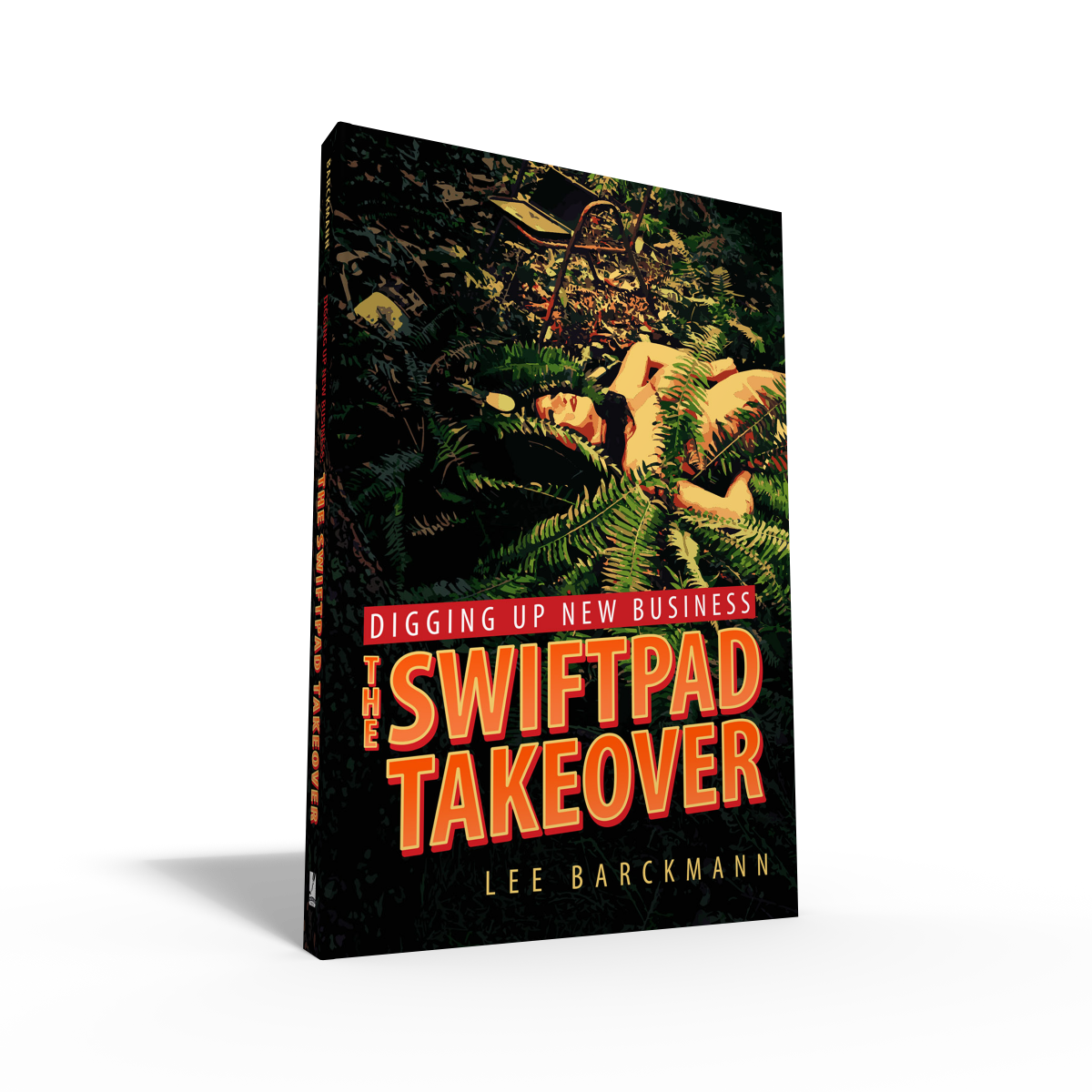 Today, business is about eyeballs on the screen. Narcissism is the shiny object that always attracts, and today it drives the bottom line. You have to be the star in your own show, and now, with the Internet social media sensation SwiftPad, there are new episodes about you each time you connect!
A NEW GIRL in the Rose City has a plan to capture the whole world's attention. She hooks up with a local pothead/Lothario to create SwiftPad, a renegade social media app that promises to convert the world's fascination with itself into billions in cash for the crew and their backers. But when a sadistic killer's handiwork is uncovered, new clues to an old crime point to Portland's IT community. He is out there, using his high-tech talent to mock efforts to catch him.
More than a Tech-Thriller, Digging Up New Business: The SwiftPad Takeover is also a raffish, satiric account of how we are coping with the sweeping changes of recent decades.

"Some Oregon techies must deal with a possible serial killer in their ranks in this satirical mystery novel.
Portland, Oregon, 2013. Kipling Rehain, a failed "alternative energy" entrepreneur, aging pothead, and secret Luddite (he only recently learned what IT stands for), attends a programmers' meet and greet at the Mission Theater. There, he meets Cynthia "GG" Oglethorpe, a tech wunderkind with a revolutionary idea for a social media app that will bring people together rather than fragmenting them into partisan tribes: "I want to architect it right so it actually means something. Not endless pictures of cute pets and birthday greetings…" With this meeting, SwiftPad is born, and it promises to make boatloads of cash for them and their backers. Meanwhile, a skeleton belonging to a woman who disappeared 16 years ago is discovered buried in one of the city's utility vaults. It's the same day that Kip's old friend Jim Hunt starts working for the utility company. As a set of old cold cases reopens, SwiftPad's future—and those of its founders—becomes inextricably tied to Portland's past. Barckmann's (Farewell the Dragon, 2017, etc.) prose is stylish and funny…the milieu is compelling enough to keep readers captivated. The book reads like a looser version of a Jonathan Lethem novel, riffing on gentrification and the tech industry while exhibiting a genuine love for detective tales and the Portland of old.
An idiosyncratic but enjoyably atmospheric murder mystery."
The author reads some of the novel
Kirkus Reviews (2015)
It's a fact that narcissism is something that this world would not be able to live without. After all, we are constantly craving information, from celebrity break-ups to hideous crimes, and SwiftPad provides that and a whole lot more. What it also dredges up is brand new data that could help solve a crime that happened in Portland long ago…
Enter…a serial killer. Think of Bundy and add an even more sadistic layer to the package. Not only is this new SwiftPad going to disturb the killer's daily life, but it will also have the hideous mind focusing on the people behind the app… and their cool back stories. Every page offers something new to keep the reader riveted.
The satire that is offered in this tale is brutally honest, hysterical, and unforgettable. But, remember, this is not a dystopian world; this is a very real, bare bones, trash-talking world that all of us have lived through – and are still living through to this day. As a reader who loves reality as much as the gritty suspense that a book like this provides, there is also that underlying current that shows how much we've seen and survived over the past decades, and how much we're most likely going to see before we say adieu to this life.
This is an exceptional 'show' that, thankfully, had to have three books to expand the story and continue to enthrall readers."
Reader Views 2021